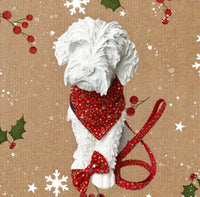 Christmas Star
There are four fabulous print to choose from this Christmas.
This one is a firm favourite and will look super stylish during the festive season and beyond. So get your pup ready to party.
Only available until 14th December.
Shop Christmas Collection
Christmas Snowflake
Our purple collections are always popular because it's a colour that looks fab on any dog.

The Christmas Snowflake Collection is absolutely gorgeous with vibrant turquoise and gold highlights.

It's a limited edition so don't miss this one.
Available until 14th December.
Shop Christmas Collections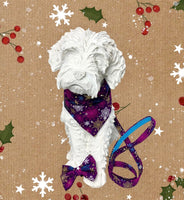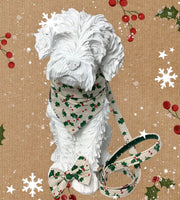 Christmas Holly Berry
This collar, bandana and lead set is made from a gorgeous natural cotton printed with holly leaves and berries.

It's another limited edition so be quick before they sell out!
Shop Christmas Collection
Christmas Gingerbread Village
This cute collar, bandana and lead set is peppered with gingerbread figures, biscuits and houses with bells Christmas trees and stockings.
It's a really lovely addition to our Christmas Collection and it another limited edition.

Guaranteed to raise a smile from everyone this Christmas!
Shop Christmas Collection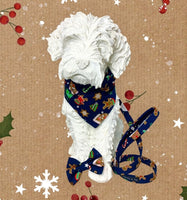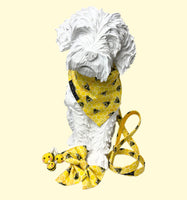 All About The Bees Collection
We love using nature themes in our collections and this glorious yellow Honeycomb print is a firm favourite.
Check out all the matching accessories now.
Shop the All About The Bees Collection
Dog Shampoo Bars & Paw Balm
Gentle and effective natural shampoos and balms sourced from a small business in Cumbria who infuse oils with home grown flowers and herbs.
Choose from three additive free formulations to care for your dog's coat and skin. We love them all.
Shop Shampoo Bars & Paw Balm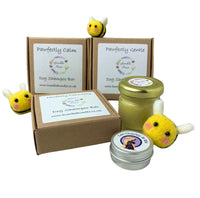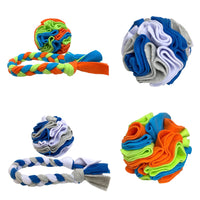 New range of toys.
Play time with your dog can be enormous fun!
What better than a game of tug to increase the bond between you and your dog.
Letting them enjoy a sniffing session can help to decrease stress and promote calmness. With that in mind we have made two new toys that are soft on the mouth but tough enough to withstand the might of a 35kg Labrador!
Check out our tug toys and snuffle balls available now in three sizes and two colours.

Shop Toys
Confetti Collection
The Confetti Collection is being modelled here by our supaw model Gertie. Isn't she gorgeous? We just love seeing her wearing our handmade accessories.
The Confetti print was a new fabric introduced for summer but is so versatile and can be worn across the seasons with ease making it the perfect print for every dog.
Shop Confetti Collection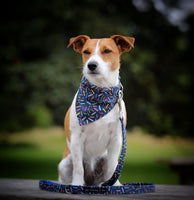 Twinning Sets
On December 1st 2021 we celebrated our very first National Twin With Your Dog Day.
To make twinning easy for you there are matching sets available which include a scrunchie with either a matching dog bow tie or bandana. We also make matching bucket hats to order so there's no excuse not to twin!

Check out all the fab prints available.
Shop Twinning Sets
SBS Event and meeting with Theo Paphitis
In February 2022 I was delighted to be able to attend the SBS Event where I was presented with my certificate by Theo Paphitis. It was a very proud moment for me and one I could never have anticipated when I retired from a 40 year nursing career to turn my hobby into a business. It has led to amazing opportunities for my small business and I am incredibly grateful to this supportive Dragon for encouraging me and sponsoring me to attend the Autumn Fair Trade Show in September 2022. He is such a wonderful role model for business owners and so generous of his time.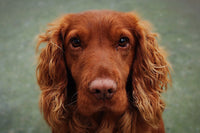 We support Spaniel Aid UK
Charley our black working cocker spaniel was rescued by Spaniel Aid when her previous owners took her to be put to sleep. She was only 14 months old! This little dog is a bundle of delight, yes she digs, yes she barks but she's a spanie!!
She was the inspiration that got me making pretty accessories back in 2018 …. the rest is history.
As a thank you to SAUK we donated funds to them from every sale.
To date we have been able to give over £3500 to help the volunteer run charity save more spaniels.
It is a great incentive to go to work each day!! 🐾🐾❤️
Testimonials
I just wanted to say thank you for the three masks you made for myself, husband and son. I never ever thought I'd be ordering such things and it's all very surreal. It has to be said that some of the masks I saw on line looked rather sinister and intimidating.

When I saw your site and the pretty fabrics it felt like an altogether different purchase and when they arrived, beautifully wrapped up and smelling of lavender, I actually smiled.

So thank you for being there during these strange times and helping to make things feel better.

Take care,

Gail Y
I wanted to say a great big THANK YOU. My parcel arrived today and it's just gorgeous. The quality is brilliant, strong and well made and was so beautifully packaged. I'm so impressed. Bow is going to be one pretty Christmas doggie. Thank you so very much again, truly wonderful.

Debbie C
Beautiful handmade dog collars of high quality!

Jackie H
Highly recommended. Great quality product. Love our collar and lead set.

Samantha W
Lovely selection of handmade accessories bought for mine and my friends and family dogs. Beautifully made and they look perfect! Thank you.

Emma B
Absolutely amazing products! So well made and they look gorgeous.
Cute photos attached.

Kerri-Anne W
Great products, love our dog collars and a bow to match. 

Definitely recommend these.

Pam J